Psalm 107
1
Give thanks to the LORD, for he is good;
his love endures forever.
2
Let the redeemed of the LORD tell their story—
8
Let them give thanks to the LORD for his unfailing love
and his wonderful deeds for mankind,
9
for he satisfies the thirsty
and fills the hungry with good things.
i am forever grateful, forever counting... eucharisteo from the 1100's
Joi Williams basketball camp for girl-love and boy-love
their tales of fun, discipline, learning, and laughing
being home to enjoy conversation with my
I do
clean sheets and
laundry dried out on the line
last Saturday, our day at the beach with the Dutch princess
the beach bag she gifted
sun, sand, and surf
sand fleas and mussels captured and placed in a beach pail for observation
a stop at mcdonalds on the way home
the Dutch princess saying, "let's sing!"
singing every song we could think of
all five voices singing Amazing Grace
my reading
A Lineage of Grace
eight-year-old boy-love sweaty kisses
ten-year-old girl-love sitting on my knees talking with me at basketball
looking back to realize service was sometimes where i least expected it
opportunities to serve, outside of the box
opportunities to serve within the box
I will praise you, LORD, among the nations;
I will sing of you among the peoples.
4
For great is your love, higher than the heavens;
your faithfulness reaches to the skies.
5
Be exalted, O God, above the heavens;
let your glory be over all the earth.
-Psalm 108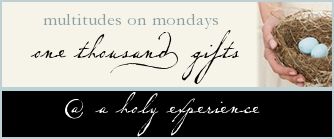 24
The LORD bless you
and keep you;
25
the LORD make his face shine on you
and be gracious to you;
26
the LORD turn his face toward you
and give you peace.
(Numbers 6)