forever grateful, forever counting His gifts #774-840
if i were to list each one here we'd still be reading them tomorrow and miss the opportunity to enjoy today :}
becoming aunt tobi to the rhythmic flow of Cadence (1/28/11)
that i hung it crooked and
it's ok... it is what it is
piano playing of girl love and boy love
the way he sings and enjoys himself as he plays
the passion she displays when playing a more difficult song she's almost mastered
this quote from
Ann's
That is always the thing: to make a point of moving slow enough through life to really see.
meals shared together
the reading of His Word during and after meals
reading a blog post full of joy
reading a blog post full of intrigue, drawing me closer to Him alone
His Love and
that even though He already knows, He hears my prayers
a spring cleaned pool in February winter
late night talks with my I do
that girl love and boy love know clementines are happy too
the gift of homeschooling
girl love hanging on her daddy's neck
the fantastic four being together on a weekday
errands, piano lessons, and basketball... together
seven-year-old boy love just showered, hair kinda all over the place, smiling bigger than big as he says:
"my hair looks like
Pete's
, doesn't it?"
that everyone who passes says, "i'd take it down"
and so, not for
me -
i take the crooked down
better :)
the
Dare to live fully right where i am
enjoying the first two chapters and videos with my K love
that they gave us a week!!
enjoying every second of The Great Eight together
laughter echoing through the house
talking face-to-face
nephew love playing the piano beautifully, masterfully
an afternoon walk, late night movies (The Book of Eli :)
Epcot with their grands and a birthday lunch in France
a bff date with K love
picture hanging x 2
waking to the sounds of giggling sweetness as our girls begin a new day, bliss
the gifts of 1,000,000 hugs
The Adventure Kids and their turtle, their minnows, and their microscopic slides of boo-boo blood
uncle G-money returning with a santa-like-giddiness, sack full of gifts
final hours of this time of togetherness
the teary-eyed longing as they drive away - - (i didn't know i could be moreso, but it makes me all the more thankful for the gifting of K love, and her I do, and my neice and nephew loves)
our boy love turning eight
the memories of the early morning he came from womb
that his birthday is also gift to me from Him
realizing- AGAIN- that The LORD is my shepherd; I shall not want.
and then, though that is more than enough, there's more...
He makes me to lie down in green pastures; He leads me beside the still waters.
He restores my soul;He leads me in the paths of righteousness For His name's sake.
Yea, though I walk through the valley of the shadow of death, I will fear no evil; For You are with me; Your rod and Your staff, they comfort me. You prepare a table before me in the presence of my enemies; You anoint my head with oil; My cup runs over. Surely goodness and mercy shall follow me All the days of my life And I will dwell in the house of the LORD Forever. Psalm 23
towels of bygone years to soak up washing machine water
the scratch & dent store, and the blessing of
the new washer & dryer
the father daughter dance
her smile and
his too :}
and that boy love opted out of going out because he wanted time with his mommy all to himself :]
the bewilderment as the veterenarian assistant said:
Patch if is fine; however, we cannot neuter him as...
Patch is a girl :)
the fun in this astonishing information
girl love saying: no wonder he wasn't offended when i put those pink ribbons on his ears :}
and the smiles as we're making the switch from 'him' to 'her'
i am thankful for the gifts that abound in each moment
i am thankful for the gift of each moment
i am thankful that
Ann
began counting, and then invited us to count too
i am thankful
Praise the LORD. Give thanks to the LORD, for he is good; his love endures forever. Psalm 106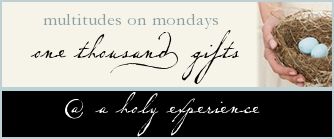 Happy Valentine's Day :)